I was sent on a last-minute mission the other day, to find a pair of pyjamas for a bride who was getting married the next day, and needed a lovely pair of pyjamas to wear in the morning whilst getting ready. No probs, I thought, this won't take me long. Well, high street, you really let me down. What I was envisaging was a cotton pair of pyjamas, with a shirt style top which buttoned-up, maybe in a polka dot or stripe. What I was confronted with was a mass of polyester "novelty" sleepwear garments, none of which could anywhere near fit the bill.
I've now got it into my head that I need pair of these elusive pyjamas myself - probably something to do with the autumnal feeling in the air - so am now considering the selection below (including a couple of nightshirts). They have to be the old-school button up style. I particularly love the selection they have at
Hush
- they have an extensive choice so it's worth visiting their website. I think a PJ set would be the perfect inhabitant of my Christmas stocking (first Christmas hint of the year!). Which pair would you go for?
Top row, left to right:
Stripe flannel pyjamas, £69
Toast
; Pretty pansie nightshirt, £25
Topshop
; Dandelion pyjamas, £49.50
Hush
; Hannah spot pyjamas, £35
John Lewis
.
Bottom row, left to right:
Vintage bird print night shirt by Dickins & Jones, £45
House of Fraser
; Spot PJ set with bag by Dickins & Jones, £60
House of Fraser
; Lola Rose bunny print pyjamas, £55
John Lewis
; (also available in a
pink horse print
); Small starts pyjamas, £49.50
Hush
.
And these two pairs from Topshop really caught my eye - at £28 a set, 100% cotton and in gorgeous prints, these PJs will be hard to beat. TK Maxx is another port of call for a nice pair of pyjamas too - keep popping in because you never know when you'll strike lucky.
But my all time favourite pair is this set below from J.Crew. At nearly £70 it's a lot to spend on a pair of PJ's but I'd say that these are pretty near perfect. They also come in pale blue, and J.Crew is offering free shipping on world-wide delivery until 30th December. Worth the splurge?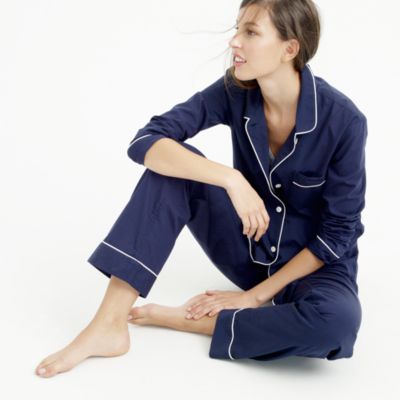 {vintage pajama set, £69.92 J.Crew}